Opening
BIO50}hotel: Objects - Memory and addiction
Date:
Thursday, 30 October 2014
Venue:
Museum of Architecture and Design
Pot na Fužine 2
1000 Ljubljana
Show on map
The exhibition Objects - Memory and addiction (30. 10. 2014 - 12. 11. 2014), curated by Giovanni Viceconte opens on Thursday, October 30, 2014 at the MAO - Museum of Architecture and Design of Ljubljana within the project BIO50}hotel*(nanotourism) part of BIO50 - 24th Biennial of Design in Ljubljana, Slovenia.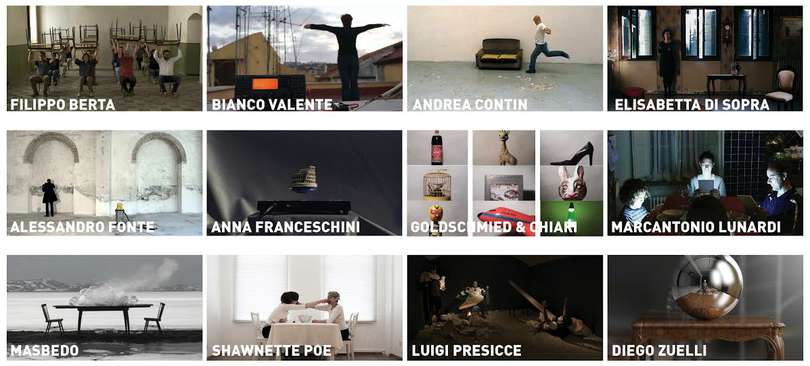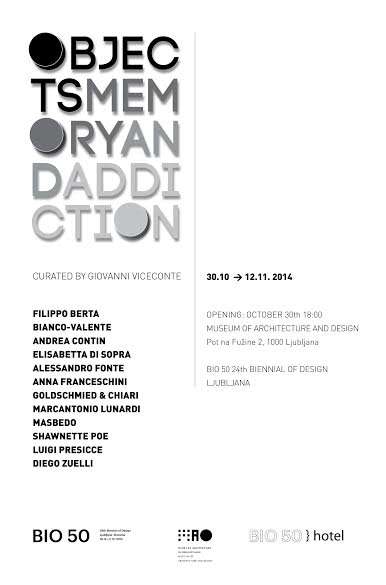 The videoart exhibition, opened until November 12, presents twelve artists (Filippo Berta, Bianco- Valente – Giovanna Bianco e Pino Valente, Andrea Contin, Elisabetta Di Sopra, Alessandro Fonte , Anna Franceschini, Goldschmied & Chiari - Sara Goldschmied ed Eleonora Chiari, Marcantonio Lunardi, Masbedo - Nicolò Massazza e Iacopo Bedogni, Luigi Presicce, Shawnette Poe, Diego Zuelli) with works tracing the object as a common thread.
This intriguing relationship/attachment between human and objects he surrounds himself with here is being told through various artifacts, which become trophies or symbolize particular situations or memories, causing addictions and influencing our lives. Undermining the objects' specific use and their aura with time we transformed their once unique nature into serial production often destined to become waste and debris of the society.
The artists in the exhibition, according to their different experiences and origins, use the aesthetic and conceptual qualities of the objects to show how artifacts when retrieved from the "chaos" of the global scenario can mutate and generate new forms, creating thus optional connections and dependencies and different visual-metaphorical relations. Further they identify the ability of objects to recall a particular idea or "deposited memory".
All this is revealed to the viewer through the visual interaction of the video, which transforms the object into an "image / memory", capable of representing something owned, containing the stratification of the infinite aspects - from the economic to the spiritual-devotional, from the industrial and craft-related to the technological, from the collective to the individual-emotional, guaranteeing the continuity of memory of the self and one's own identity over the time, despite the volatile and temporary nature of every human being.
*BIO50}hotel is a temporary exhibition hotel established by Alessandro Fonte and Silvia Susanna at MAO - Museum of Architecture and Design of Ljubljana during BIO50 24th Biennial of Design curated by Jan Boelen as part of the research theme nanotourism.