Event
Service Design Slovenia:XJam (Affordable Living)
Date:
Sunday, 26 October 2014
Venue:
Museum of Architecture and Design
Pot na Fužine 2
1000 Ljubljana
Show on map
Service Design Slovenia will host its second 'Experienced Jammers Jam' or 'XJam'. Jammers from previous Ljubljana Service Jams will meet and try to solve problems which we face when organising and facilitating workshops.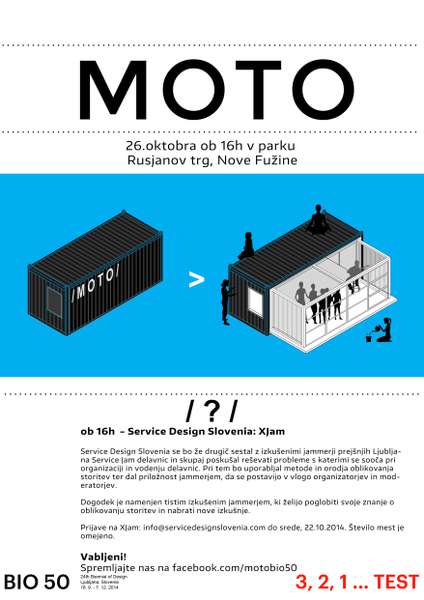 They will use service design methods and tools to give experienced jammers a chance to put themselves in the shoes of organisers and facilitators.
The event is meant for those experienced jammers who wish to learn more about service design and get new experiences.
Apply to info@servicedesignslovenia.com untill wednesday, 22.10.2014. Number of participants is limited.
If you haven't participated at a Service Jam we are happy to announce that the next one is going to take place from 21. - 23.November 2014 in Poligon (Coworking Slovenia). Send us a message on the email adress above and we will let you know about the application date and programme of this years' Ljubljana Sustainability Jam.
Organized by the project's members MOTO, part of the group Affordable Living, BIO 50.